With Mardi Gras in the rearview, many New Orleanians have begun their observation of Lent–the 40-day period in between Fat Tuesday and Holy Thursday. Part of Lenten tradition states that meat should not be eaten on Fridays, but fish and seafood get a pass, which is why seafood (be it boiled, fried, or any preparation in between) is a culinary staple during the coming weeks. 
But even non-Catholics can agree, it's never a bad time to enjoy the fresh bounty of Louisiana seafood so you might as well pile a plate with all the fixins while the getting is really good.
Whether it's fried catfish plates from staples like Mandina's, Barrow's, or High Hat, a catfish po-boy from Parkway, or a more indulgent meal from Heard Dat or PeeWee's, there's no shortage of amazing options all across the city. 
Just in case you needed an extra nudge, many of the restaurants below (including Pêche, Vyoone's, Katie's, Galatoire's, and more) are participating in Fish Fry Fridays, where a portion of all proceeds from each plate sold will go towards Hospitality Cares (a crisis relief grant program benefiting hospitality workers). Visit their website for more information and to see the menus from the 35+ participating restaurants. 
Naturally, in keeping with this Lenten tradition, many local churches and schools are also holding fundraiser fish fries to support their local parishes. You can find a list of locations, menus, and dates here.

Where to Eat During Lent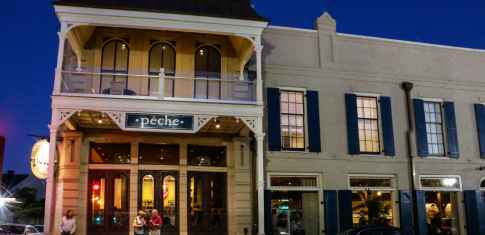 Where to Eat During Lent